Channel 01 - Mt Stokes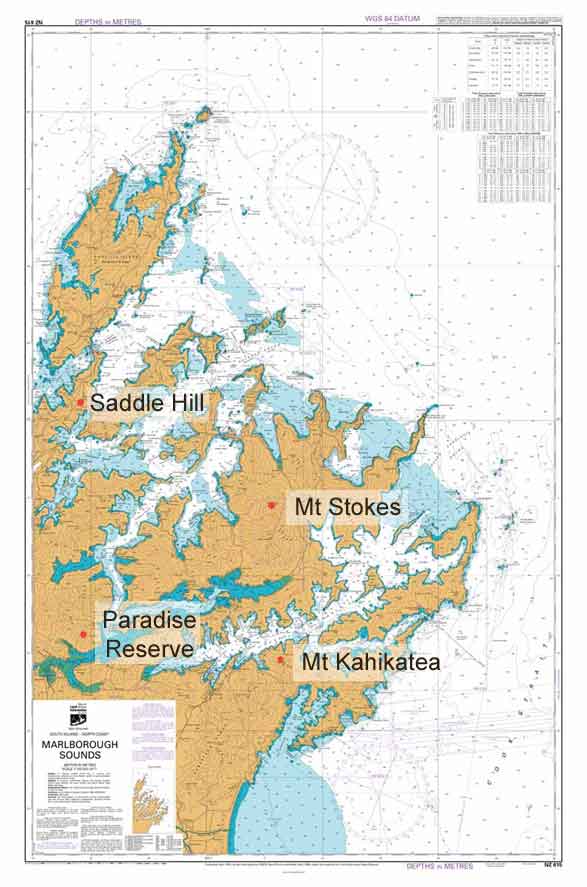 Coverage extends from Cape Farewell in the south to Cape Egmont in the north and the east coast from Cape Palliser to Cape Campbell, most of the Marlborough Sounds, Golden Bay, Tasman Bay, Wellington and Cook Strait. At times this channel may be workable outside these perimeters.

Channel 05 - Saddle Hill
Covers western D'Urville, outer Pelorus, Tasman Bay and Golden Bay. Channel 05 is permanently linked to channel 65 - this means that any transmission made on channel 05 is heard simultaneously on channel 65 and vice versa.

Channel 63 - Mt Kahikatea
Covers Queen Charlotte Sound, Port Underwood, Cook Strait, south to Cape Campbell, Kapiti, Mana and also parts of Kenepuru and Pelorus Sounds.

Channel 65 - Paradise Reserve
Covers Kenepuru and Pelorus Sounds, Havelock, D'Urville, western Cook Strait, parts of Tasman Bay, Golden Bay and large sections of Queen Charlotte Sound.

Channel 66 - Mt Stokes
Coverage area is similar to Channel 01. This repeater is for commercial use only and is not operator monitored.
These channels belong to the members of the Association. If you know of someone using these channels who is not a member, please encourage them to join. Otherwise you will be subsidising their contribution to our operating costs! If you would like us to contact them in a friendly way please let us know.